Connecticut Termite Exterminator – 'Know the Difference Between Termites and Ants'
Termites – they cause millions of dollars of damage each year!
Here at Millette Pest Control, we feel it's important to educate you about Termites – what to look for and the key differences between a flying Termite and a Flying Ant.
As the temperatures begin to warm over the next several weeks,  we will begin to see termite swarming activity.
Termite Swarmers are sometimes easily confused with Winged Ants.
Take a look at the picture below – Can you tell which one is a Termite and which one is an Ant?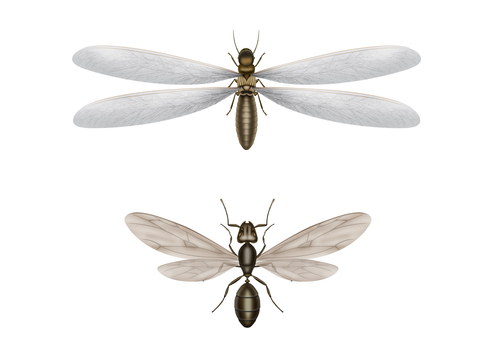 The termite in the picture above is the top image. The ant is on the bottom. Connecticut  Termite Exterminator Tip – Here's how to tell the difference:
INSECT BODY
Termites:  Termites have two distinct body segments with a waistline closer to the head than the tail.
Ants: An ant has 3 distinct body segments with two waistlines nearly equidistant from each other.
INSECT WINGS
Termites: Termite swarmer wings are very long and narrow, extending a body length beyond the back of the abdomen.  As you can see in the picture  above, the wings of termites lay back very straight and parallel with the body.
Ants: Ant wings extend just slightly past the end of the body.  Also, their wings lie at a slight angle to the body, away from the body at the bottom.
No matter what flying insect you see (especially inside or close to your home) it's always good to get a second opinion. Our professional team of Termite Exterminators here at Millette Pest Control area ready to help. In fact, we have developed a Phone APP that makes it extremely easy for you to send us a picture for identification.  Download below: