Termite Treatment options for Connecticut Residents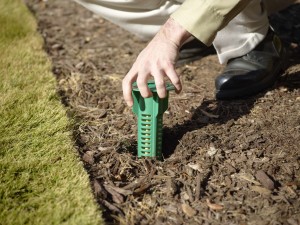 Your home is likely the most expensive purchase you'll ever make. Termite destruction can ruin this investment.   You need to take action to prevent this from happening. Here is an overview of Termite Treatment options for Connecticut residents.
There are two basic directions you can follow when termites have been found on your property and it needs to be treated. You can choose between a termite bait system such as Sentricon® or a liquid ground termite treatment with a termiticide such as Termidor® SC.  The Sentricon Termite Baiting System is manufactured by Dow AgroScience and is sold exclusively to licensed and certified professionals.  Typically, a contract with a Certified Sentricon Specialist is required to inspect and maintain the stations, which is performed annually. Termite baiting systems use a wood (cellulose) base to attract foraging termites, and then require an active ingredient to be added (through replacement of the monitoring wood base cartridge with the active ingredient) to the stations once termite activity is observed. Termite baiting systems like Sentricon use an Insect Growth Regulator (IGR), which inhibits molting in termites, causing a slow but inevitable death. Termites pass this active ingredient throughout the colony, resulting in eventual colony collapse. Stations should be monitored at least monthly after installation, and then may be checked less frequently once established.
Although the use of a termite bait station system requires regular monitoring and replacement of certain parts, baiting systems do have advantages. Bait stations use very little active ingredient, which is protected in tamper-resistant stations. This makes baiting ideal in situations where there may be a water contamination risk, such as homes in areas of low elevation near bodies of water like oceans, lakes, or rivers.  Installation of bait stations does not disturb the foundation of a structure. Bait stations are often the preferred choice over the use of an alternative method, liquid termiticide treatment, which requires trenching.  Homes or structures that are located on or around rock beds and that have concrete slabs adjoining the foundation make baiting systems far easier to install. And for those of us whose primary concern is about environmental safety and chemical sensitivity around the structure, termite bait stations are likely the preferred choice.
A quick comparison of baiting system approach demonstrates other advantages over liquid treatments:
Scientific studies documenting colony elimination far superior
Eliminate the termite queen most often
Treatment is minimally-to-non-disruptive to home, lawn, and landscaping
Treatment effectiveness does not degrade over time
No label restrictions on water sources and wells
Treatment is removable
Now we've spent time comparing baiting systems to liquid termiticide treatment, let's review the features of a liquid ground treatment, such as Termidor SC.  A liquid treatment a continuous barrier protecting the structure, in contrast to the discontinuous barrier that gaps between bait stations create.  A liquid barrier treatment is more labor-intensive initially, and while there is no cost of upkeep or replacement parts such as that associated with bait station systems, a yearly inspection is required with any barrier method you choose.   Liquid baits typically do not repel termites and spread the active ingredient throughout the colony through contact and sharing food.  Termidor SC in undetectable to termites, which interferes with basic functions such as grooming and feeding. Non-repellent termiticides, like Termidor, are reported kill much more quickly than the active ingredient found in termite baiting systems, and treatments last in the ground longer.
The choice may seem daunting but that is why you've likely chosen a professional pest control firm like Millette Pest Control to handle your termite problem.
Call Millette Pest Control today for a Termite inspection and free consultation – we will fully explain Termite Treatment options for Connecticut Residents.
860.274.9503