Connecticut Pest Control – Service Plans & Pest Free Living
Connecticut Pest Control Service Plans Allow you to enjoy Pest Free Living – All Year Long
Here at Millette Pest Control, our mission is to keep you and your family pest free. That's why we've developed our Residential Service Plans for homeowners and businesses looking for Connecticut Pest Control. The ultimate in pest protection, these affordable plans come with FREE Emergency Service and include an initial inspection and service followed by scheduled treatments. We offer a Gold and Silver Plan.
Here's what's included:
Download our complete service plan brochure below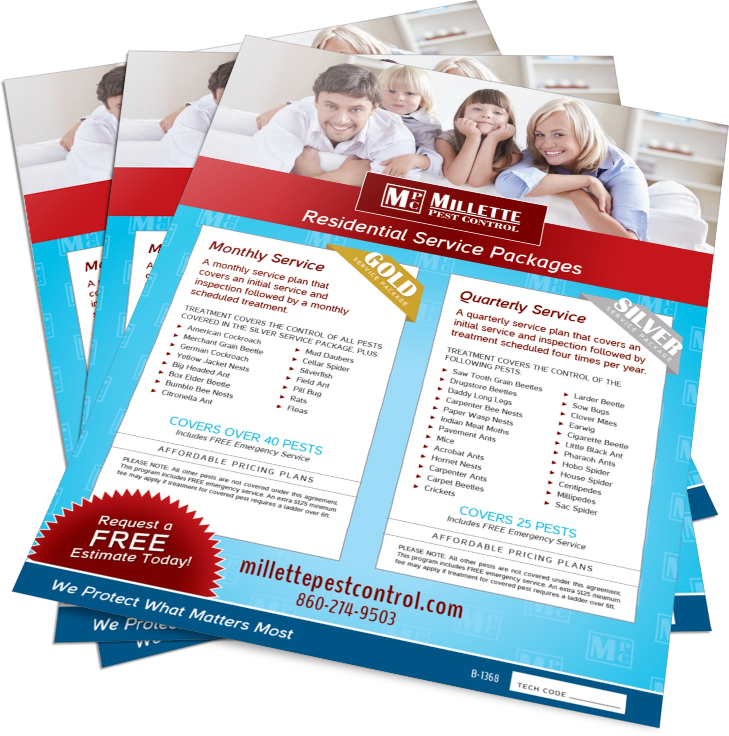 Some of the pests covered in these programs are: Small ants, bee and wasp nests, carpenter bees, centipedes, clover mites, cockroaches, crickets, earwigs, fleas, ground beetles, mice, millipedes, pantry pests, rats, silverfish, spiders, and sow or pill bugs.
Request a FREE Estimate Today!